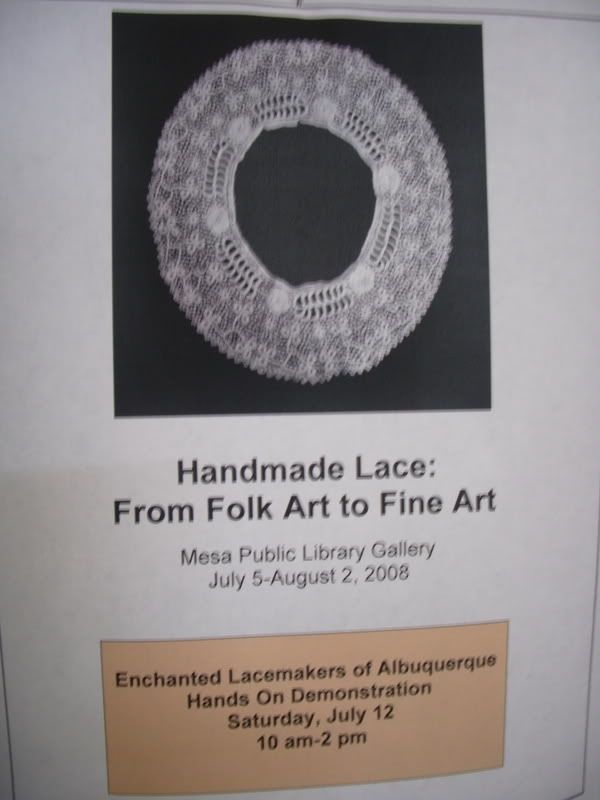 To keep us from becoming completely demoralized from over work, the entire costume shop packed up last week and went on a little field trip Los Alamos.   Once the sight of nuclear testing, the city of Los Alamos seems to now have a thriving fibers community.   The exhibit was at the public library, and it was one woman's collection.  In addition to being a nuclear physicist, she has also been traveling the world for years, collecting hand made lace and lace paraphernalia.  She described it as a mania, which it certainly seemed accurate.  The people who must have sat there for years at a time twisting tiny pieces of thread by candle light must have been just a little bit insane.   The way it's made, all the layers and complexity, our maniacal lace collecting tour guide told us, was similar to figuring out complicated physics problems. 
Lace has such an intense history, people got so worked up.  But it seems like nobody remembers the makers.   Our lace collecting docent had obviously taken such loving care of each piece.  
She pointed out that in one piece contained the initials "M M" in one of the flowers.  Can you see it?  I love reminders that people, probably people a lot like me made this stuff, their hands and their time.  And history doesn't remember them, because they were women, or because lace just wasn't important enough to be recorded, but they made it anyway.
My photography obviously doesn't do any of these lace bits justice, but it was incredible to see.  Cathy decided right on the spot that she was going to get some bobbins and start working on her wedding dress.
Weird fact about lace bobbins:  they used to make commemorative lace bobbins for public hangings.  So as your sitting, twisting threads, your thinking, "Ah, the day James Banbit was hung for heresy.  'Twas a bright, sunny day, and the children and I had a lovely time in the town square."  ????
  Any way, there was a lovely farmers market right next to the library and we got lunch there.  I also bought two skeins of yarn spun from sheepies right up in the hills of Los Alamos.  This awesome woman gave me delicious bread for only two dollars.  Because I didn't have enough money.
And at the end of the day we drove back right across the bandolier tuff. Which could make your heart stop.